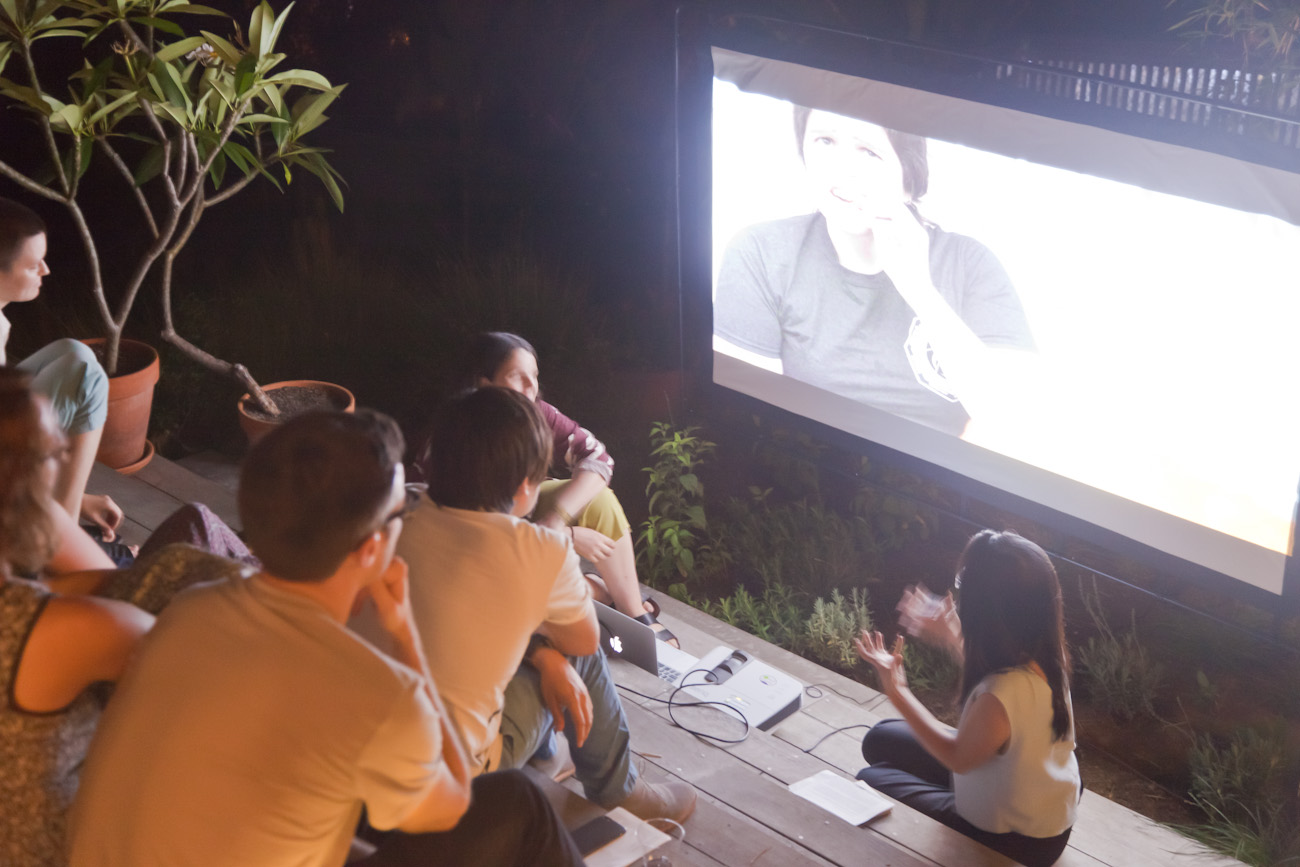 Film still courtesy of Rachel Yezbick
Photography by Cedric Tai
Materials & Applications presents a screening of Epicurus' Conundrum, a recent video by Rachel Yezbick.
The video follows the artist on a neighborhood surveillance ride-along with Dale Brown of Threat Management Center, a private security firm that uses paramilitary aesthetics, de-escalation tactics, and defensive martial arts to patrol the Detroit neighborhood where Yezbick's parents live. The screening (45 minutes) will be followed by a discussion with Yezbick and Privacies Infrastructure co-curator Aurora Tang.

August 19, 7–9PM @ private residence.
RSVP required. Please RSVP to info@materialsandapplications.org
Special thanks to M&A Members Ingalill Wahlroos-Ritter and Roland Wahlroos-Ritter for generously hosting the evening's screening.
About Rachel Yezbick
Rachel Yezbick explores the connections between anthropology and art. She received her MFA from the California Institute of the Arts after attending Michigan State University's Ph.D. program in Cultural Anthropology. Yezbick has lived and conducted research in Glasgow, Scotland; Dhaka, Bangladesh; Bamako, Mali; Detroit, Michigan; and Los Angeles, California. Her work has been exhibited in solo exhibitions at Garden, Los Angeles; New City Space, Glasgow; and Studio 41, Glasgow, and in group exhibitions at REDCAT, Los Angeles; The N'Namdi Center for Contemporary Art, Detroit; Printed Matter, New York; The Indianapolis Museum of Contemporary Art; and Glasgow International 2018. She currently lives and works in Los Angeles.
Materials & Applications presenta una proyección especial de Epicurus' Conundrum, un video reciente de Rachel Yezbick.
El video sigue al artista en un recorrido de vigilancia vecinal junto con Dale Brown de Threat Management Center, una firma de seguridad privada que utiliza la estética paramilitar, tácticas de reducción de la escalada y artes marciales defensivas para patrullar el barrio de Detroit donde viven los padres de Yezbick. La proyección (45 minutos) será seguida por una discusión con Yezbick y la co-curadora de Privacies Infrastructure, Aurora Tang.
Evento: 19 de agosto, 19:00 a 21:00 en una residencia privada.
RSVP necessario. Contactar info@materialsandapplications.org para RSVP.

Un agradecimiento especial a los miembros de M&A Ingalill Wahlroos-Ritter y Roland Wahlroos-Ritter por la generosa presentación de la proyección de la noche.
Sobre Rachel Yezbick
Rachel Yezbick explora las conexiones entre la antropología y el arte. Ella recibió su MFA del Instituto de Artes de California despes de obtener su doctorado de la Universidad Estatal de Michigan en Antropología Cultural. Yezbick ha vivido y realizado investigaciones en Glasgow, Escocia; Dhaka, Bangladesh; Bamako, Mali; Detroit, Michigan; y Los Angeles, California. Su trabajo ha sido exhibido en exposiciones individuales en Garden, Los Angeles; New City Space, Glasgow; y Studio 41, Glasgow, y en exposiciones colectivas en REDCAT, Los Ángeles; El Centro de Arte Contemporáneo N'Namdi, Detroit; Printed Matter, Nueva York; El Museo de Arte Contemporáneo de Indianápolis; y Glasgow International 2018. Actualmente vive y trabaja en Los Ángeles.