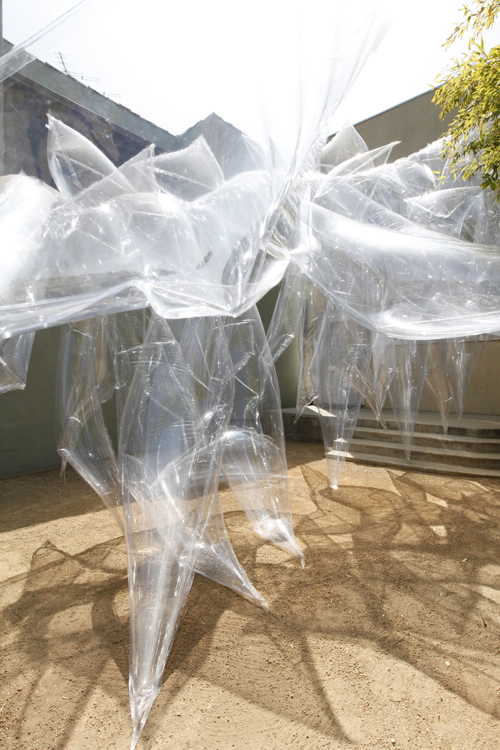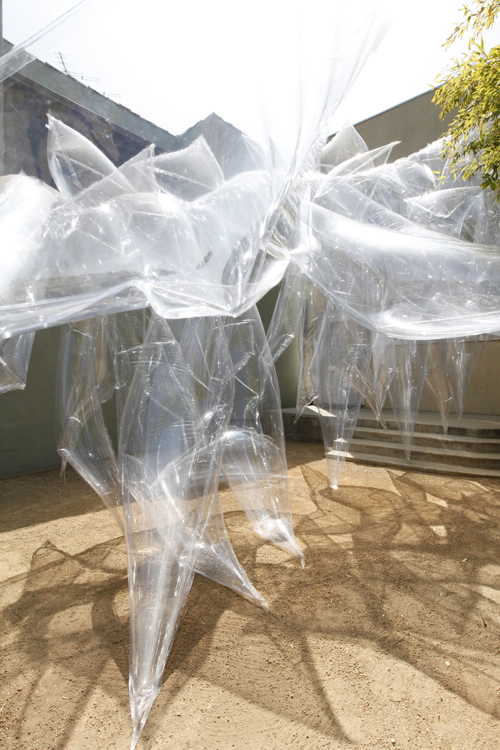 "Squid Capsule," an installation by the Los Angeles design studio Layer, transformed the outdoor courtyard into a weather island that isolates and amplifies subtle changes in Los Angeles' summer climate. "Climate change" is enacted by the project as a delicate drama of temperature and humidity, with air as the medium and water as the agent of change. A field of fog permeates these inflatables, suspending the entire piece in a vapor cloud.
"Squid Capsule" ran from June 19th through September 30th. Admission was free to the public. Visitors were encouraged to touch, lounge, explore, and experience the installation at Materials & Applications.
Layer is a Los Angeles based design partnership founded by Lisa Little and Emily White. Layer's work ranges from buildings to installations to drawings made by robots. Recent work includes Art Los Angeles Contemporary and residential projects in Echo Park and Manhattan Beach. Layer's installation "Fat Fringe," which was produced through M&A's MatterApp series, was featured on the cover of the April 2010 issue of Interior Design magazine. "Fat Fringe" will be visible to the public again at the California Design Biennial at the Pasadena Museum of California Art beginning on July 18th.
Crew: This installation was made by by Mohamed Agdir, Cynthia Aguirre, Jason Anthony, Adrine Aralalian, Brittany Bailey, Griffin Bailey, Otis Bardwell, Greg Barkus, Casey Benito, Bruce Chan, Henry Cheung, Jenna Didier, Jesse Fleming, Shawdie Hazegh, Oliver Hess, Melissa How, Stacey Howchin, Crystal Hughes, Brian Janeczko, Graham Keegan, Rachel Klein, Glen Kinoshita, Kyd Kitchaiyat, Hannes Langguth, Jessica Lim, Lisa Little, Michael Lowell, Alexandra Isaievych Mason, Libby McInerny, Tyler McMartin, Daniel Morrison, Helen Park, Jennifer Reifsneider, Tracy Reinberg, Aaron Ryan, Paul Stoelting, Yana Stoimenova, Paul Trussler, Jon West, and Emily White.