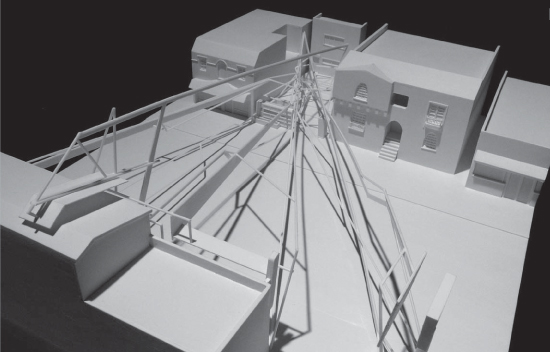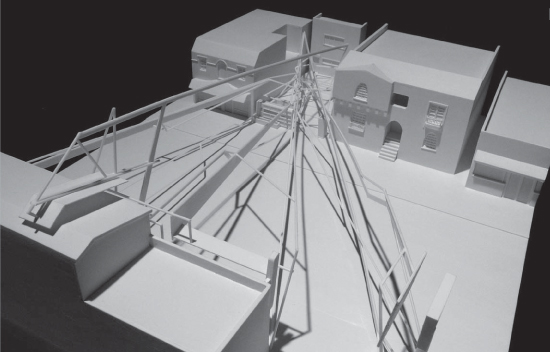 An "extreme cantilever" built from aluminum and polypropylene rope hovers over the courtyard of Materials & Applications in Silver Lake, Los Angeles. This structure is an outdoor installation created by Sci-Arc professors Dwayne Oyler and Jenny Wu, called Density Fields. Defying classification as either sculpture or architecture, the piece flexes with a gesture that extends imaginary lines of force beyond the small courtyard, seeming to pierce buildings and features of the neighborhood.
The primary structural question Oyler-Wu Collaborative asked is, "What makes the idea of using lines different in terms of their structural properties?" The idea addresses tensile properties, thereby limiting the structural possibilities, but allowing for a more specific way of designing that exploits tensile strength. This line of inquiry led them to a structural principle that utilizes a dense field of lines. The installation consists of two basic materials: (1) an aluminum frame extending up from the ground and out into the space, and (2) a series of fine, tensioned cables pulling the cantilever in the opposite direction — forcing it to hover above the ground.
The development of this piece began with the imaginary violent attack of the bristling sculpture on the neighboring buildings. Then, with careful editing of the geometrical elements, the sculpture retracted back to its tensed position in the M&A courtyard. Oyler-Wu Collaborative's goal is to negotiate the structural ideas, the programmatic needs of the space, and the desire to use basic geometries to create a rich spatial experience within the space itself.
Density Fields was designed by Oyler Wu Collaborative (Dwayne Oyler and Jenny Wu) and engineered by Bruce Danziger of ARUP.
Extra special thanks to all the volunteers who helped us with this installation, it would not have been possible without you.
Astrid Diehl, Nick Blake, Nico Machida, Ji Byeon, Peri Shefik, Libby Mcinerny, Glen Kinoshita, Jim Rosenthal, Orn Sveinsson, Taylor Arneson, Paul Adam, Daniel Mas, Nick Pardowski, Martin Chow, Chris Crotty, Joshua Tremblay, Oliver Liao, Paul Macherey, Cory Hill, Jian Huang, Harold Portillo, Sky Milner, Justin Oh, Janica Ley, Joenna Kim, Abbey Chong, Jordan Su, Jon Wimmel, Adam Grove, Scott Chung, Elizabeth Marley, Emmanuel Gonzalez, Josh Avina, Todd Davis, Sven Altmetz, Daniela Morales, Luke M Stepleton, Grace Wu, Julia Dole, Sharon Ko, Nicole D. Garcia, Elizabeth Anderson-Kempe.