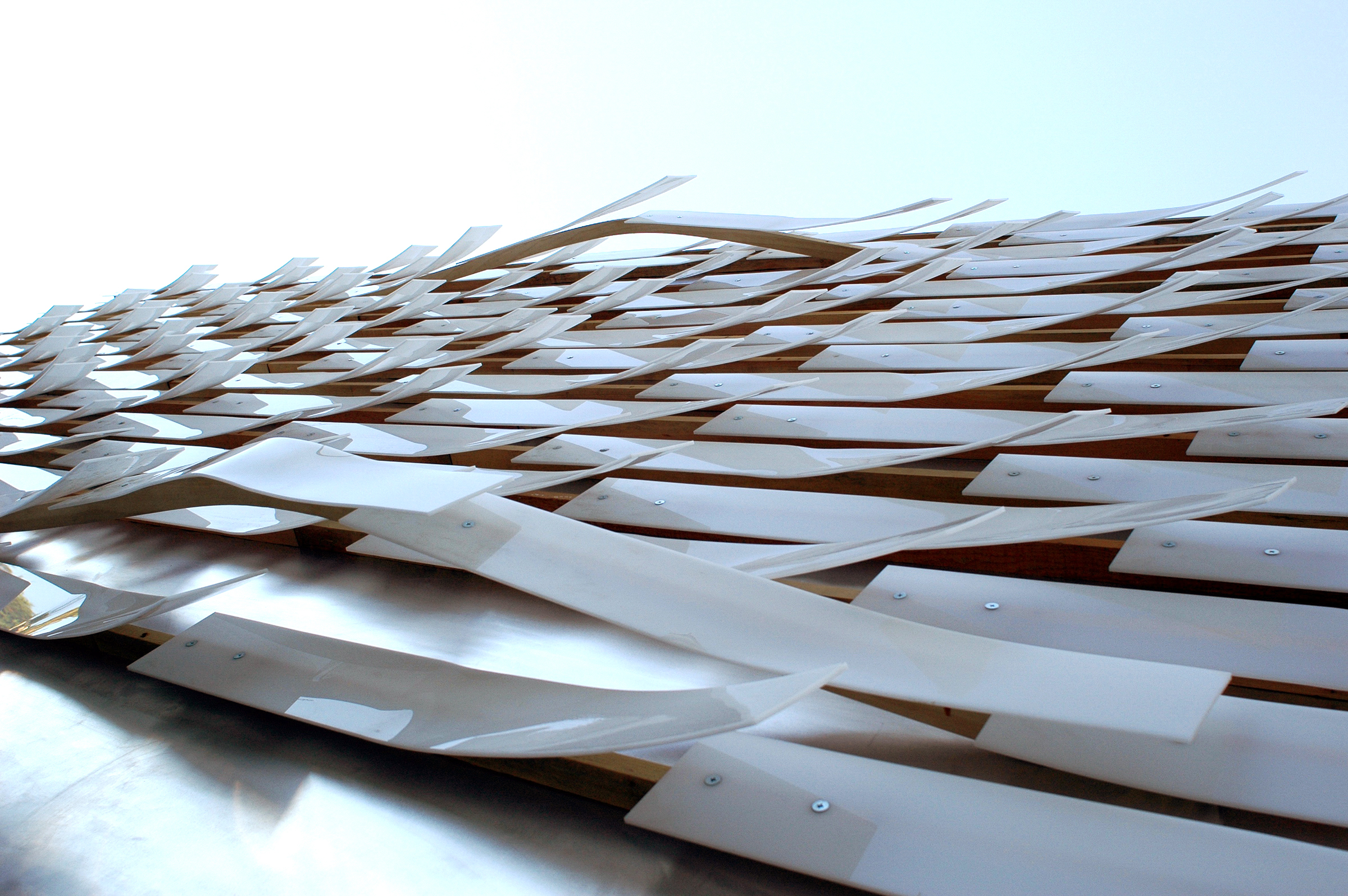 Material Re-formation : Force Feedback
Rob Ley's Serial Departure represents a starting point, with respect to research, towards a responsive and possibly reactive architecture. The project began with an interest in a technique of steam-bending wood, a process that would hardly be considered high-tech as it was developed in the mid 19th century. This interest led to the methodical research of historical precedence, including kayak construction, shape memory alloys, and Thonet/Eames furniture. This research offered the realization that a material in many ways considered simple and base, such as inexpensive pine furring strips, could easily be infused with sophistication and a specificity normally reserved for high-end materials. Building materials are either grown or formed into a final state of being, and what comes next in the construction process is normally seen as stacking and assembly. Brick masonry, light wood framing, heavy steel construction all operate on the principle that the material is what it is, with the variable being how it is assembled. Poured concrete has historically come the closest to a fundamental shift in the way that we build. Concrete experiences a phase change as it develops from a liquid state to one that is solid. Even with concrete, however, the final product is reliant on an archaic system of sculptural formwork. How will we design as materials themselves offer a variability as to their final function and form? Stacking and assembly have always served as the variable within architectural construction. This form, that form, it's merely a difference in stacking and connections of the material. The basic material itself now offers a fluidity in its final form, and, better yet, a variability from one day to another. We can therefore imagine architecture, even in its historical massive and solid form, eventually owning the capacity to react to and for its user, ultimately catalyzing life's experiences.
Wood has the capacity, when heated with steam, to alter itself closely at the molecular level. As it is heated, the binding resins between the fibers of the wood, which are parallel in placement, begin to soften. Because this operates on such a small scale in relation to the component of wood that we understand to be a plank, a dowel, a piece of lumber, it would seem that the material itself morphs into an altered state.
By projecting digital information onto the fabrication bed, a system emerges in which curves, developed through design in 3D modeling applications, could be precisely replicated with a piece of wood. A variable jig composed of a pegboard and adjustable cams allows for the production of an almost unlimited number of unique curvatures, moving beyond the limitations of one mold equals one form. This same process allows for material feedback into the digital model. If at any point the curvature exceeds the bending capacity of the wood, the computer model is adjusted to match the maximum profile the wood is able to bear. In this way, a feedback loop is created as information flows from the digital, to the real, and back into the digital.
-- Text by Joshua G. Stein, Associate Professor, Woodbury University Interior Architecture
About the Designer
Rob Ley's projects and continuing explorations engage innovative formal and material approaches to develop artworks and variable environments that respond to human perception. His studio's history of experimental work includes installations at the Storefront for Art and Architecture (New York), the Taubman Museum of Art, the Materials & Applications Gallery (Los Angeles), as well as commissions for many public and private organizations including the Martin Luther King Hospital (Los Angeles), the Eskenazi Hospital (Indianapolis), Florida State University (Tallahassee, FL), and the Oregon Zoo (Portland).
Ley has been awarded several notable awards and grants including the 2015 American's for the Arts - Public Art Network Year in Review award, a Graham Foundation grant, multiple AIA research grants, and an IDEC Special Projects grant.
Rob Ley currently teaches graduate and undergraduate design studios and seminars at the University of Southern California (USC). Ley has lectured and exhibited internationally on the topics of public art, design, technology and innovation for the public sphere at institutions including the Cooper Union (New York), the American Institute Vienna (Vienna, Austria), Los Angeles Forum for Architecture and Urban Design (Los Angeles), Virginia Tech School of Architecture (Blacksburg, VA), and the Milwaukee Institute of Art and Design (Milwaukee, WI). Rob holds a Master of Architecture from University of California, Los Angeles (UCLA) and a Bachelor of Science in Architecture from the University of Illinois, Urbana-Champaign.
About the Foreword Author
Joshua Stein is the founder Radical Craft and the co-director of the Data Clay Network, a forum for the exploration of digital techniques applied to ceramic materials. Radical Craft is a Los Angeles-based studio that advances an experimental design practice saturated in history, archaeology and craft. This inquiry inflects the production of urban spaces and artifacts by evolving newly grounded approaches to the challenges posed by virtuality, velocity, and globalization. He is co-editor of Dingbat 2.0, the first-full-length publication on the iconic Los Angeles apartment building type. Stein has received numerous grants, awards, and fellowships, including multiple grants from the Graham Foundation for Advanced Studies in the Fine Arts, the AIA Upjohn research award, and the 2010-11 Rome Prize Fellowship in Architecture. He is a former member of the LA Forum Board of Directors and has taught at the California College of the Arts, Cornell University, SCI-Arc, and the Milwaukee Institute of Art & Design.